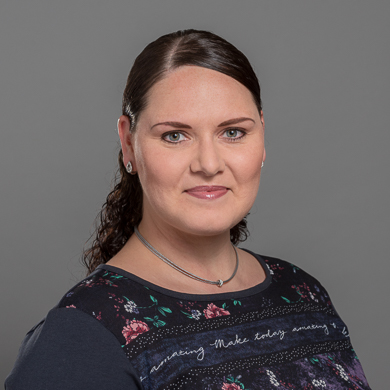 Assistant Professor
Mgr. Libuše Jelénková, Ph.D.
Department of School Education
E-mail:
jelenkova@utb.cz
TEL: +420 576 037 404
Office:
U18/433
Author identifiers
Libuše Jelénková is a graduate of Master's study program with specialization in Teaching for Secondary Schools – Pedagogy and Music Education at Palacký University Olomouc. Her doctor's degree was graduated from the University of Ostrava in the field of Specialization in Pedagogy – Music Theory and Pedagogy. She was involved in research specialized on comparative pedagogy with focus on the educational systems, especially on the curriculum of secondary education at music in the international context. She worked as a teacher of pedagogy and music at Kostka High School and at the same time cooperated with Humanitas College in Vsetín as an external teacher of musical didactic subjects in the field of Pre-school Pedagogy. She has been working as an assistant professor at Department of School education of Tomáš Bata University in Zlín since 2018. The main areas of her professional interest and teaching are didactics of music education in pre-primary and primary education and general didactics in secondary education.
---
Teaching
Consulting hours
Tuesday 3.30pm - 5.30pm
---
Curriculum vitae
Education
2017 University of Ostrava, Faculty of Education, Doctoral Study program, Field of Study Music Theory and Pedagogy (Ph.D.)
2009 Palacký University Olomouc, Faculty of Education, Study program + Lower Secondary School Teacher Training, Field of Study Pedagogy - Music Education (Mgr.)
2004 Janáček Conservatory Ostrava, Field of Study Violin Playing (dipl. um.)
Membership of expert organizations
Czech Pedagogical Society (ČPdS), member since 2018
Czech Pedagogical Research Association (ČAPV), member since 2018
Organisation Mondiale pour l´Éducation Préscolaire (OMEP ČR), member since 2018
Association for Teacher Education in Europe (ATEE), member since 2018
---
Creative activities
Publications
Project outputs